A Note from Youth Pastor

Shortly after God called me into ministry on January 27th, 2008 I began to see God directing me into youth ministry. My wife and I are extremely excited that God has placed us within a wonderful church and community to minister to its youth. Our desire is that God would use us to point young people toward Jesus Christ and through Him their lives will be changed.

I ask you to take time to read through the many programs within our church that are available for all ages of youth. If you have any questions about the youth program at Millersville Baptist Church, please feel free to contact me. It is my desire to aide your family in any way that I possibly can.

4:12 Youth Ministries is designed for ages 12-18. The name is derived from 1 Timothy 4:12 in which we find the character in which we desire our youth to emulate. There, the scripture states, "Let no man despise (look down) on thy youth; but be thou an example of the believers, in word (speech), in conversation (conduct), in charity (love), in spirit (enthusiastic), in faith (faithfulness), in purity." We seek to point youth to this end through exciting, biblically sound teaching; ministering to local, national, and international needs; and building relationships with others who want to make an impact for Jesus. To learn more about 4:12 Youth Ministries contact us today.

Download our free app from Apple iTunes or Google Play.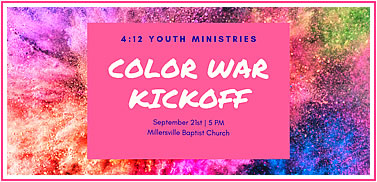 Saturday - September 21, 2019 - 5:00PM
Join us for a time of food and fun at our
4:12 Youth Ministries Kickoff.

We will start the evening with hamburgers, hot-dogs, chips, and dessert.

After that, we will get the excitement ramped up by playing the classic game, Capture the Flag, with a little twist. Each team will be given color powder, as seen in color runs, to throw at the opposing team.

After we have found our winning team, all teams will unite together to celebrate with one gigantic color powder toss. Which will make the free t-shirt you will receive at the event look pretty cool!
Kids4Truth: This exciting new ministry will give our children the knowledge of what they believe and why they believe it. Meetings will be each Sunday night at 6:00pm in the fellowship hall. We have classes available for ages 3 years old through 6th grade. We will enjoy music, snacks, games, but most importantly, we will be digging into God's Word, learning and memorizing God's Truth! Hope to see you there! Visit the Kids4Truth page to learn more or contact us today.

Join Us for our 4th Annual Kick-Off Celebration!
Sunday, September 8
5:30 - 7:30 PM
Fellowship Hall